Feeding little ones is probably one of the most difficult job a parent has to do. You want to feed them the most nutritious and healthy meals but lets be honest days are chaotic and simple and easy is exactly what we need.  All kids go through that "picky" stage but I truly believe in leading by example. If my girls see me eating a salad or all my vegetables they are more inclined to do the same.
Even when they won't eat a certain food I still offer a small amount on their plate. I do this so they see the food and they get used to it being served as an option.  In those moments when they refuse everything on their plate (it happens!) I have my girls continue to sit at the table as part of the family dinner. I have found that sometimes they initially will push the plate away but if they sit there a few minute they usually start eating.  When all else fails I choose a small healthy option to give them so they don't go to bed hungry, this can be anything from unsweetened applesauce, a piece of fruit or sprouted bread with natural almond butter.
I will blog about this topic again as seasons change, since I know for parents the more ideas the better! That being said here are some quick and easy meal ideas that my girls are currently loving (for new readers my daughters are ages 2 & 4)!
Snacks:
Hummus veggie platter- Putting this out for an afternoon snack is a great way to get them to enjoy vegetables. We love grape tomatoes, carrots, snap peas, cucumbers and pita chips (just check ingredients and choose an option without additives and preservatives)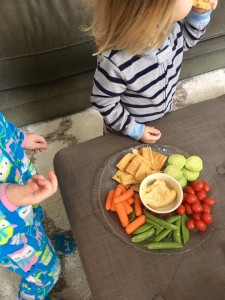 Fresh fruit- blueberries, sliced apples, oranges, mangoes, kiwi
Banana slices with almond butter (this is a favorite in our home)
Banana "split"- banana sliced lengthwise topped with yogurt (check out the KiteHill brand made with almond milk), peanut butter drizzle, coconut flakes and chia seeds.
Trailmix- raw nuts, seeds, rasins, freeze dried fruit, coconut etc. You can create any combination.
Pistachios or Almonds
Organic cheese stick
Energy Bites- There are so many recipes out there but they start with raw oats, nut butter, honey or maple syrup then mix-ins of your choice (banana chips, dark chocolate chips (love the brand Enjoy Life), raisins, dried apples, raw nuts etc). So simple to make and the perfect snack to grab on the go.
Smoothies or a smoothie bowl- great way to add in those hidden veggies. Adding 1/4 or 1/2 of an avocado gives it that great creamy texture.
Meals:

Deconstructed burrito bowls- avocado, black beans, corn, tomatoes, guacamole & rice. My girls love to squeeze fresh lime over their rice too.
Baked ravioli with marinara dipping sauce and a simple side salad
Scrambled eggs, homemade bread (sprouted, seeded or whole grain are other great options), sliced carrots, cucumbers and hummus
"Fried" Rice- I love making this as the leftovers keep really well. Perfect way to add in some extra veggies too.
My girls aren't big pasta fans but they do love the Gluten Free pasta that is made with corn and quinoa (it must have a different taste).  Toss with some Earth Balance soy free butter and a little garlic salt.
Homemade rotisserie chicken made in the crock pot. To keep it up high and out of the juices flip over ramekin dishes and place chicken on top of them inside the crock pot. Paired with a small baked sweet potato and sliced cucumbers with a simple caesar dressing to dip in.
Whole grain crackers with nut butter & jelly and fruit
Oatmeal with almond milk, drizzle of maple syrup, chia seeds (we call them sprinkles) and sliced banana or strawberries.
Naming sandwiches has changed everything in our home. No one wants a peanut butter and jelly sandwich but a Bitty Baby sandwich and EVERYONE is on board.

Bitty Baby Sandwich inspired from the American Girl Bitty Baby Book- Seeded whole grain bread with almond butter and banana slices
Bumble Sandwich inspired from the Abominable Snowman in Rudolph- Seeded whole grain bread with Kite Hill almond milk cream cheese and cucumber slices.

Other ideas: sliced sweet potato wedges, black olives, rice with earth balance, roasted chick peas, kale chips, hard boiled eggs or even fresh pickles.
Let your kids help in the kitchen too! My 4 year old just got a set of toddler safe knives for Christmas so she loves helping me chop veggies and prepare dinner. They both love mixing anything and want to be involved as much as possible. Tiny aprons are just the cutest!! This is such a wonderful way for them to learn about a variety of foods they eat and truly learn by example. Plus the moments I get to spend with my girls in the kitchen is priceless and always calls for a dance party.
I try my best to keep them involved throughout the process whether its talking to a farmer at the farmers market, choosing produce at the grocery store or picking out meats at a local farm. I want them to learn where the food they eat comes from and how different foods nourish their bodies helping them "jump higher" & "run faster" because really thats all that matters at this age haha.
I hope this has helped inspire some new ideas for your family

Leave a comment below sharing the favorite dishes in your home.
Health & Happiness,