The number one question I hear is "What do you eat?", so I thought I would give you a sneak peak of a typical day. Keep in mind every day is different in my house as I love to cook and am always whipping up new recipes. That being said I do keep 2 factors in mind throughout the day:
I strive for balance each day so if I enjoy lots of bread for breakfast or lunch I will opt for a lighter dinner or vs versa. I am personally all about enjoying healthy carbs, not restricting.
I strive to live 80/20 choosing whole real foods 80% of the time and enjoying life the other 20%.
Breakfast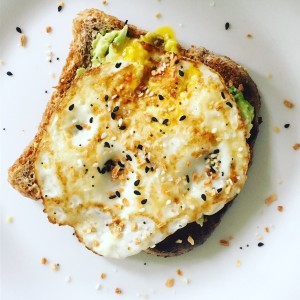 One of my absolute favorite breakfasts lately has been a slice of Ezekiel bread, mashed avocado, topped with a dippy fried egg and Trader Joe's Everything But The Bagel seasoning. This sprouted bread is easy to digest, is a complete source of protein and actually allows for an increase absorption of minerals. You can find it in the freezer section at most grocery stores.
I also alway start my day with a cup of coffee, adding a splash of organic half & half and a small amount of coconut sugar
Lunch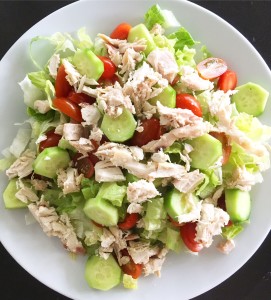 If you haven't noticed by now I am a huge salad lover!! This lunch salad was super simple- chopped romaine, cucumbers, grape tomatoes and left over rotisserie chicken that I made in my crock pot. Here is my go to chicken recipe that is so simple to make at the beginning of the week. Just swap out the foil balls and turn over small ramekins instead, to raise up the chicken in your crock pot.
Snack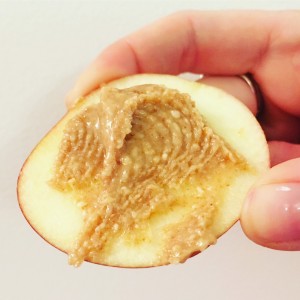 My youngest has been obsessed with apples lately and we just picked up the most delicious peanut butter from Cape May Peanut Butter Co , so this was the perfect snack to hold me over until dinner.
Dinner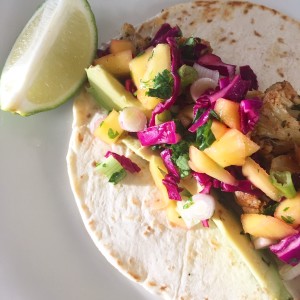 You can never go wrong with a taco and this jerk cauliflower taco with mango salsa did not disappoint.
I always drink tons of water throughout the day as well. Other than my morning coffee and an occasional cup of tea, water is my drink of choice.
Dessert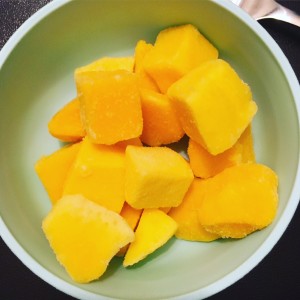 Almost every night I have been enjoying frozen mangoes or frozen peaches as dessert. It has the cold ice cream like texture and isn't overly sweet- YUM! My favorite trick to keep portion size in mind is to use one of my girls toddler bowls.
Let me know if you have any questions. What are your go to meals?